Explore Chinatown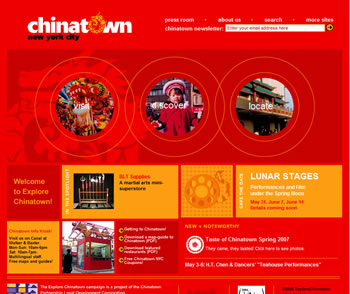 Chinatown suffered severely as a result of 9/11, and many believed that Chinatown did not receive as much help in recovering as other Lower-Manhattan neighborhoods. Realizing a healthy Chinatown is essential for the overall health of Lower Manhattan and New York City, the Lower Manhattan Development Corporation and the September 11th Fund issued an RFP for a campaign to revitalize Chinatown's economy. Through research and consultation with Chinatown community leaders, tourism promotion was identified as the most promising area for short- to mid-term relief.
Soury Communications developed the strategy and wrote a presentation on behalf of a multi-agency team, one of some two dozen proposals submitted. The proposal was selected and the Chinatown tourism marketing campaign debuted in Spring of 2004.
The cornerstone of the Explore Chinatown campaign was the comprehensive Web site. Other key components of the campaign include a permanent visitors kiosk on Canal Street and a Chinatown map-guide.